Howell's Excavating Ltd. has multiple options to meet your material needs from small volume landscape products available at our Innisfail yard location to large scale gravel volume supplied from our pit locations directly to your project. We can provide custom Aggregate Crushing and Screening for any project large or small. Our Aggregate processing staff and equipment can achieve the specification you require with the capability of manufacturing multiple products simultaneously. Pickup or delivery service available.
Pit and Aggregate Products
3/4″ (20mm) Crushed Gravel
1-1/2″ (40mm) Crushed Gravel
3″ (75mm) Crushed Gravel
Pitrun Gravel
1/2″ (12mm) Screened Rock
1″ (25mm) Screened Rock
1-1/2″ (40mm) Screened Rock
Screened Sand
Rip Rap – Limestone Class 1M
Rip Rap – Limestone Class 1
4″- 6″ Cobblestone
Topsoil
Screened Topsoil
3/4″ (20mm) Recycled Crushed Asphalt
Winter sanding material options: sand, sand with 7% salt, sanding chips
Landscape Products
3/8″ (14mm) Washed Chips (Pea Gravel)
3/4″ (20mm) Grey Limestone
1″ (25mm) Grey Limestone
2″ (50mm) Grey Limestone
1″ (25mm) Rainbow Rock
2″ (50mm) Rainbow Rock
3/4″ (20mm) Washed Rock
3/4″ (20mm) Crushed Gravel
Large Decorative – 6″ to 6′
Screened Sand
Topsoil
Screened Topsoil
Bark Mulch (Spruce / Pine)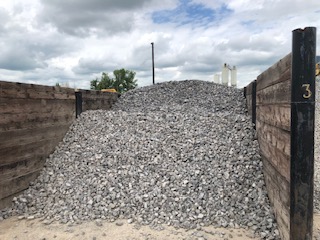 Do you have a project that requires aggregate or decorative landscape materials?
Our excavating equipment and aggregate material services are available by appointment. Please give us a call or send us an email to schedule.